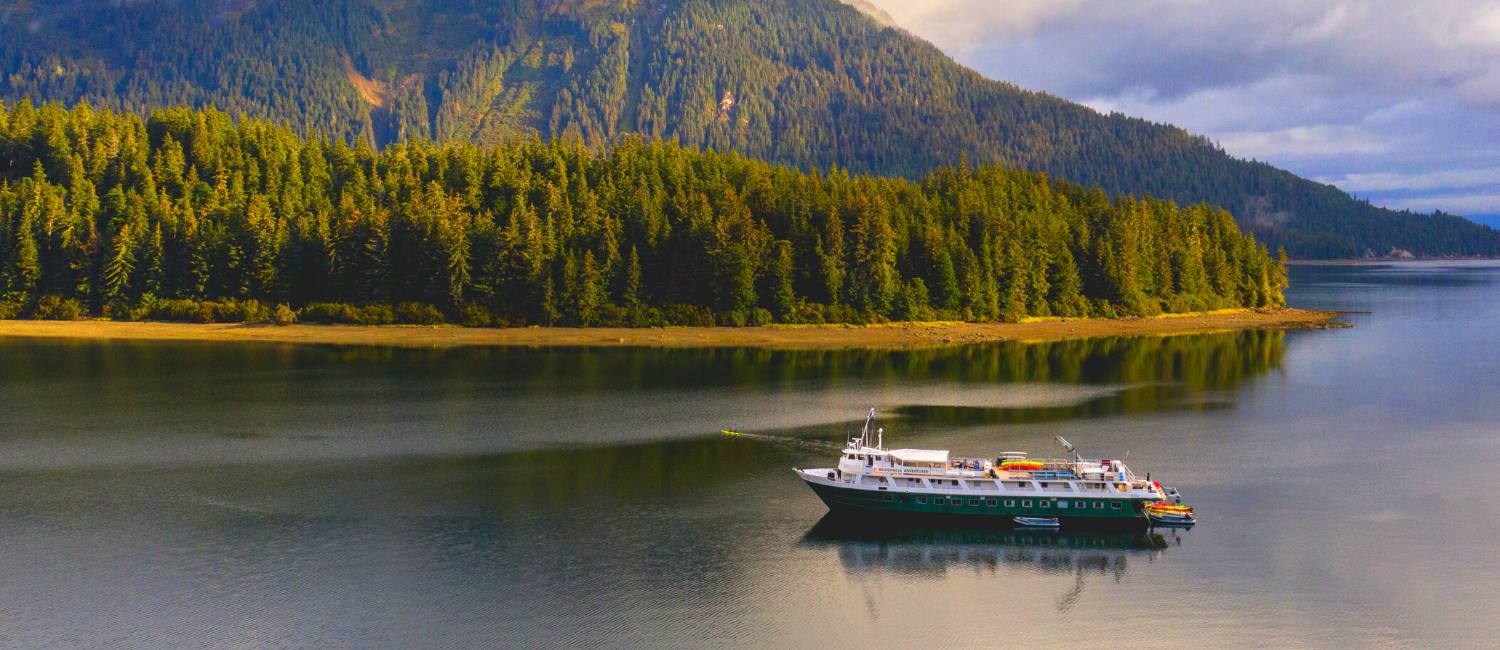 Welcome DarkHorse
Listeners & Viewers
Use code DARKHORSE with your booking request to save $500. 888-862-8881 | sales@uncruise.com
Start Small Ship Cruising and Save $500 Per Booking
We create small ship adventures for curious minds. There are no ordinary adventures here. Get the trip that gets beneath the surface and goes where large cruise ships can't. Get up close and personal with communities, culture, nature and wildlife by choosing any of our eleven destinations. Many of our guests thought they would never "take a cruise." Las Vegas-style shows? Formal dress codes? No thank you, but that's not us. When they have neon disco lights, we have Northern Lights and starry skies. Join us on 7 to 14 night cruises starting at $4900 per person all-inclusive before your personal savings.
Most of our guests don't want to go home - so don't! In the spring and fall, it's possible to book two destinations back to back and save. Book Alaska on its own or book two with Baja & Bergs, Fire and Ice, Pacific Northwest and Alaska, there are lots of suggestions on our Cruise Combo Packages page. Contact an Adventure Specialist today or complete our form request.
Ask About Solo Traveler Deals!
Valid for new reservations only. Get extra savings for last minute deals on select Alaskan itineraries. Added savings if you book within 30 days of departure for May or June.
Yes, this can be combined with all other promotional offers, family, loyalty, and refer-a-friend savings. Bring everyone from the grandparents to the grandkids!
Galapagos not included. Restrictions apply. No cash value.
Need More Information? | Tell Us a Bit About You
Send us a message and get a quote. Use your code DARKHORSE.
So Much to See and Do - What to Expect
Wildlife, Nature, Culture, Connection
If a picture is worth a hundred words, our videos are worth thousands (and really, who wants to read thousands of words on a website?!) See for yourself just what you are getting into, up close-and-personal in our destination videos. See our wildlife, sea life and nature adventures with no lines, no crowds and BIG adventure.
Comfort, Companions, Crew
The ship is NOT the destination on an UnCruise, but that doesn't mean you won't be comfortable! The food is gourmet farm-to-table. Your pastry chef may join your afternoon kayak group after whipping up amazing desserts for later! Your cabins are snug with a place for everything. Small, but all ocean view. Comfy lounges to chat with new friends over a craft beer, scratch cocktail, or glass of wine.
All-Inclusive Popular Destinations
Click to search our small boat itineraries and locations for any season. Trade those snowballs for crystal clear waters in Mexico for the winter, and leave the heat for our liquid sunshine in Alaska this summer! Adventures are 7, 12, or 14 nights, plus land options for pre- and post-cruise adventure.
Break Up with Boring with Small Ship Adventures
Our kind of people want to find out about the places they go. They want to experience the world first hand. Go places those cruise ships can never reach, get into places that most people never see. Yeah, we aren't "a cruise" (thus the name!). Our trips are never-boring adventures.
Small ship cruising gets you into the places that tourists never see. Explore the world hands-on at ground level. National Parks are awesome, but you'll never really see them if you drive through. Bushwhack through National Parks and National Wilderness Areas. HIke the Tongass that is still road-free. Get mud up to your calves and moss in your hair. Snorkel with sea lions, whale sharks, humpbacks, or manatees. Forget renting a canoe by the hour at home. Yak-and-Whack on an all day kayak and bushwhacking hiking adventure that will leave you ready for a cocktail and the hot tub when you get back.
No shopping. Lots of excursions, but they depend on the weather, where the wildlife is, what kind of guests with what skills and interests we have with us. Small groups of 8-12 launch out on kayaks, skiff tours, hikes, or full day adventures. And no extra cost excursions ever. Every option is included. And for a limited time, our fastest boat on our newest adventure itinerary is on sale! Join us aboard Wilderness Legacy on our Wild, Woolly & Wow itinerary this summer in Alaska and save $500 per person! Traveling alone? $0 single supplement! Traveling with friends? Groups of 8 or more save 25%!
View All of Our Destinations
Watch our collection of destination videos along with our series of fresh, local, inspired dining playlists and listen to our podcast. All on our YouTube Channel. Looking for more. Let us know at pr@uncruise.com