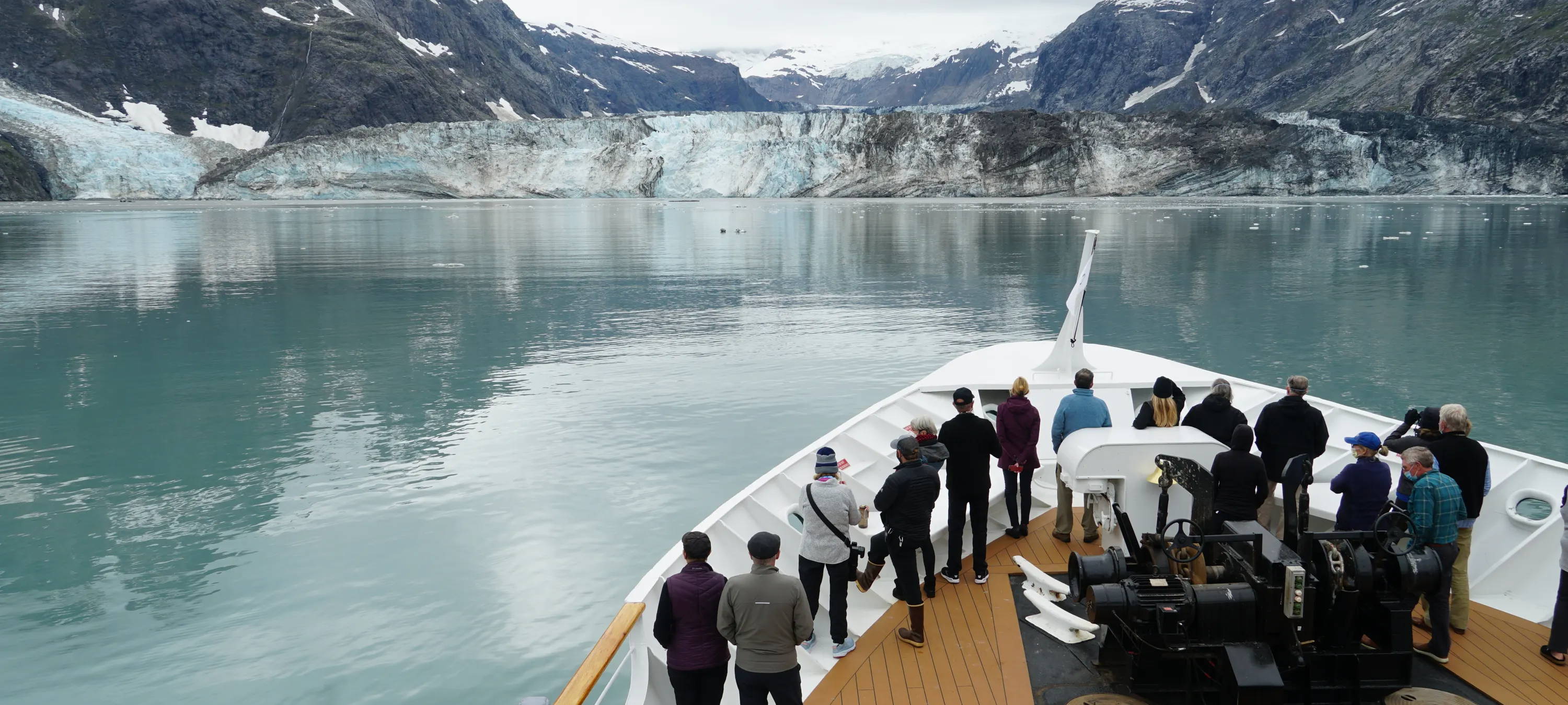 Why Us? What's Life Like Onboard?
Our small ship cruise line is all about fewer faces and open spaces. It doesn't take long for guests and crew alike to get to know one another on our adventure cruises. You have your own private, cozy cabin to retreat to or comfortable and spacious community spaces to spend time with your fellow adventurers. If you're wondering who it is you might be traveling with, our guests hail from all walks of life—a range of ages, places, and lifestyles; couples, singles, and generations of family; educators and the educated (be it the school-of-life or a PhD); and savvy-travelers, entrepreneurs, even celebrities. Rest assured—our guests are likely a lot like you! And we are pretty sure you'll quickly find common interests.
So join in with other stargazers picking out constellations in the night sky from the bow, match up with a new compadre for sharing a kayak, or enjoy the company of a different group mixing up the tables at meal times.
While our guests quickly find commonalities with one another—shared hobbies and interests, travel experience, career paths, sometimes even hometowns, every guest's story is unique. And the individual journeys that brought each guest to an UnCruise adventure is one of the great things that makes our cruises so unforgettable—and unduplicatable. Sharing stories during morning coffee—albeit sometimes sleepily; over hors d'oeuvres during social hour; or making lifelong memories captaining a kayak together. In fact, many of our guests create such tight bonds of friendship while aboard that they become lifelong friends and choose to sail together (with us) again in the future!
We create unparalleled value. From your very first inquiry, expect personalized service and expertise—and a host of benefits that make us unique.
Each ship has its own personality. But they all share a common goal—to bring relaxation, comfort, and camaraderie to adventurers. The ambience is welcoming and casual. The crew calls you by name and quickly knows your preferences, making you feel right at home. And by the end of the cruise, you and your fellow travelers will feel like one big family.* See details on the small ship comparison chart below.
Our Vessels | Ship Comparisons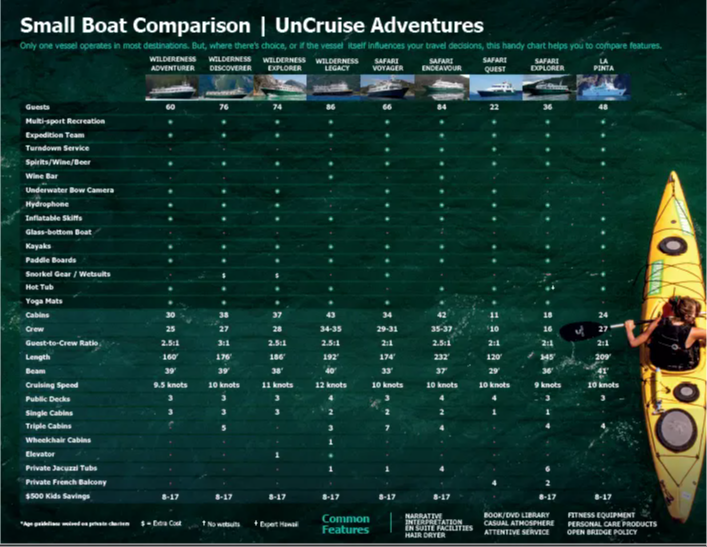 Our Unparalleled Value. No Lines. No Crowds. Big Adventures.
You'll be impressed with how enthusiastic and accommodating everyone is. There's good energy and excitement. Meals are plentiful and scrumptious. Guests say it's a classy, well-run operation. What they least expected, though, was the bonding—sharing adventures with people who became friends for life, and meeting so many returning passengers. This is UnCruise, this is true adventure. Now let's check out what you can expect onboard.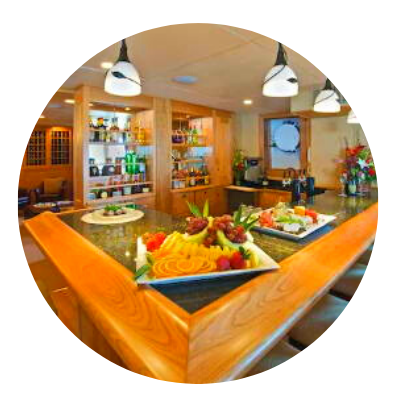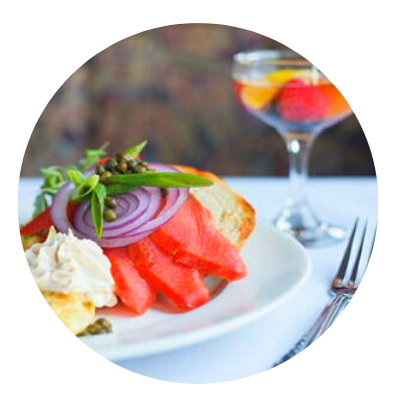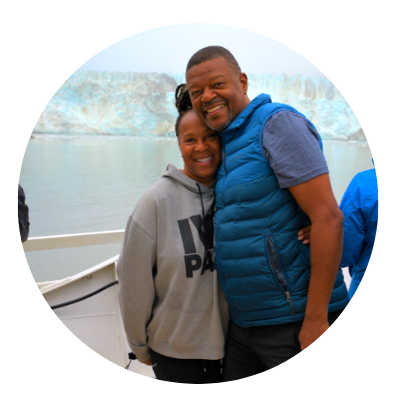 Backstage pass
Small group travel—from the vessel itself to groups of a dozen or so afield—puts you in on the action (not watching from afar), with AHA! and "I-can't-believe-I-just-did-that" moments around every corner.
Expert guides
Seriously—they're aces. Our guides have vast and deep experience, plus an impressive collection of advanced degrees in curiosity-piquing subjects from whales to fungi to geology. Their enthusiasm is infectious.
Home away from home
Boats are comfortable, welcoming, and unique in style and personality. All are adventure-ready for gearing up, kicking back, and mixing and mingling.
Adventure for all
Kayak or paddle board. Snorkel or skiff. Beach stroll, hike, or mountain goat climb. There are plenty of options and equipment for everyone to join in the fun.
Active as you like it
Do as much or as little as you like. On top of the daily activities, ease into the day with sunrise stretches on the top deck. There's exercise equipment at the ready, anytime. Or just watch the landscape go by.
Fresh, hand-crafted cuisine
You didn't know it would be this good. Chefs (including pastry chefs) impress meal after meal with locally sourced ingredients, swoon-worthy desserts, and baked-on-board breads.
Cheers to that!
An astounding array of beverage options, both non-alcoholic and alcoholic (signature cocktails every night!), mean you're never far from a toast. And it's all included.
Zero hidden costs
What most defines your trip is included in the fare—excursions, adventure equipment, unlimited food and beverages including alcohol, transfers, and baggage handling. Put your wallet away (until it's time to recognize your topnotch crew).
Accommodating … and then some
Dietary restrictions? Special occasion? Need a little extra help on a hike? It's our business to make sure your adventure not only matches your needs and expectations, but surpasses them. Just ask and we'll do our best!
The ineffable spirit of adventure
We're all in the same boat. Crew and guests alike, wide-eyed with wonder and childlike curiosity—and it shows. The excitement. Laughs. Collective energy. Tugs on the heartstrings throughout your adventure.
Small Ship Experience, Big Adventure Vibes
Local, Fresh, Inspired Dining
It's a simple motto with delicious results. Our culinary program begins by building relationships with local farmers and vendors—with a focus on what's fresh and sustainable. Field-to-table produce and ocean-friendly seafood from the waters we cruise in.
The result? Innovative, nutritious, and tasty dishes that highlight the flavors of the region. In Alaska, sample buttery-rich Dungeness crab caught live, in-season, by local fishermen. Or try roasted pineapple with mascarpone ice cream and banana bread crumble in the Hawaiian Islands. It's a true taste of place.
All onboard meals are included in your fare, from early riser breakfast, coffees and teas, to afternoon cookies, happy hour hor de'oeuvres and all plated meals.
Dinners include a choice of entrées including fresh, local seafood, meats, and vegetarian dishes

Made-from-scratch desserts like tiramisu and lavender panna cotta
Unless there's a special barbecue or lunch on shore, most dinners are served over several courses. Attention is always paid to your personal preferences. The atmosphere and dress code in each ship's dining room is casual. And seating is open so you can join new friends and choose a different table at every meal.
Your galley crew pays close attention to how food options meld with the activities and conditions of the day. Belly-warming soups are perfect after a chilly glacier adventure. Cool cevíche makes a refreshing palate-pleaser in tropical climes. At mealtimes, there are vegetarian, meat, and fish options to choose from. And if you can't decide, try a sampling—just ask for half-and-half!
Have dietary restrictions? No problem. While we love to impress with field-to-table ingredients, ocean-friendly seafood, and swoon-worthy desserts, we're just as dedicated to meeting your dietary needs. Please let us know in advance if you have any dietary restrictions so we can prepare for your arrival. We are happy to accommodate:
Vegan and vegetarian

Celiac-friendly and gluten-free

Dairy- and lactose-free

Seafood allergies or intolerance

Nut allergies or intolerance

Other food allergies, intolerance, and preferences
Whetting Your Whistle
The vibe depends on the vessel. Your setting might be reminiscent of a neighborhood pub, intimate wine bar, or upscale lounge. Specialty coffee and teas are always available. Wines tend to come from Washington and Oregon, but impressive international wines are also available. Most of our boats feature sustainable cask wines on a rotating tap.
Behind the bar, you'll find premium and small batch craft spirits. Cocktails are mixed with seasonal, local ingredients, house-made mixers and cordials, even some house-infused spirits (like a cucumber vodka or gin). The UnCruise Bloody Mary mix is popular, too (guests line up for the stuff). Call us cocky, but we're confident that we can hang our hat on having the best craft bars afloat!
And while the occasional tastings do pop up, most bartenders are tinkerers by nature. Inspiration can come from the unique experiences of the day, the wilderness explored, or stories from hearty explorers—Lewis & Clark, John Muir, and you. With a specialty cocktail of the day, creativity is always shaking—or stirred. So enjoy! Unlimited fine wines, spirits, and microbrews served aboard are included in your fare.
Sustainable Dining
Wherever possible, ingredients are sourced locally for freshness and regional authenticity, as well as to support the communities where we travel and to protect and preserve our oceans. Committed to sustainability throughout all aspects of our business, we are proud to be the first cruise partner of the Monterey Bay Aquarium Seafood Watch Program.
Wellness, Fitness, & Relaxation

Relax in the on-deck hot tub * (on select vessels)

Nutritious meals with local ingredients

Fitness equipment, laps around the deck, and on-deck stretches

Active adventure gear for kayaking, paddle boarding, snorkeling*, and hiking
Outer Decks & Inner Spaces

An inviting dining room with open seating

Main lounge with a variety of board games, books, DVDs, and plenty of space to kick back and watch the landscape go by

Observation decks for wildlife viewing and relaxing under the stars

Open bridge policy—visit with your captain and mates

And possibly, a galley tour (it's amazing what they do in this space)