When Are Cruise Seasonal Variations?
If you're looking for answers to some commonly asked questions about when is the best time to visit our destinations, let us help. See each itinerary's seasonal variations below.
From early April into May, Southeast Alaska awakens. Bears, baby animals, migrating grey whales and birds, budding forests, snow-covered peaks, gushing waterfalls, and Aurora Borealis sightings can be part of your experience. Plus, it's crowd-free.
This mean extra playtime. Temps are warmer, so there's better access to higher elevation hikes. And humpbacks are back in groups. Come summer's end and into early fall, wildlife gets busy—mating, migrating, and feeding up for winter.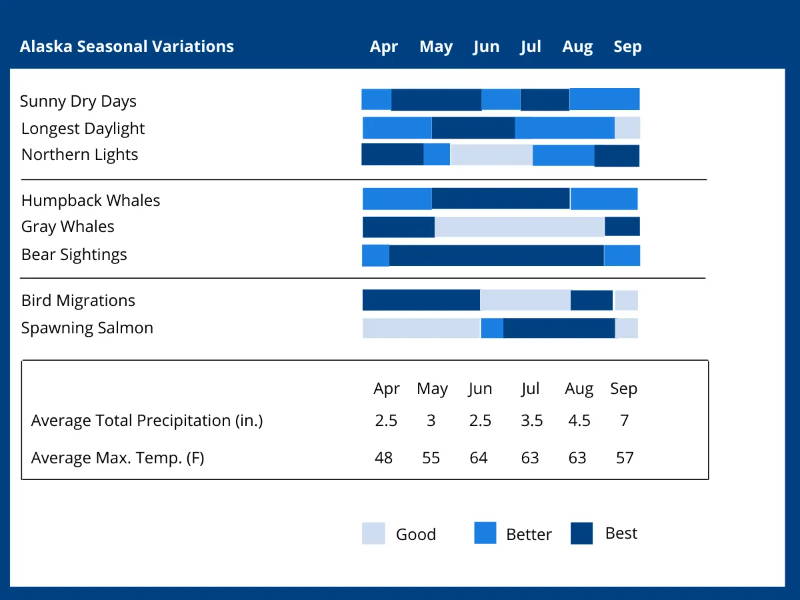 ---
Whether it's November-to-March's wet (or "green") season or April-to- October's dry season, we like to think there's no such thing as bad weather in Hawaii.
The green season brings back humpback whales and the Hawaii state bird, the Nene, while you may see more Giant Pacific Manta rays darting about from February through April. Dolphin, whale shark, and green sea turtle sightings are possible all year round.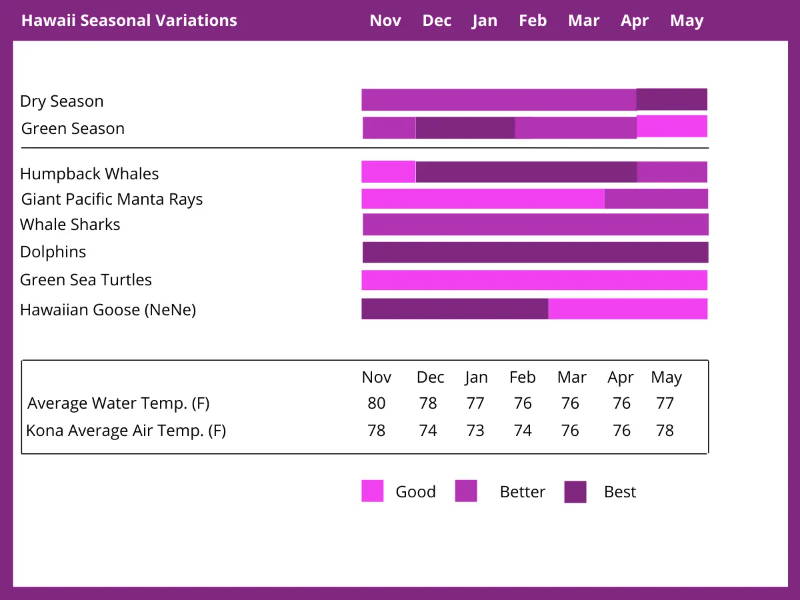 ---
Like the lifecycle of the vine from flowering to harvest, the Columbia & Snake Rivers experience a progression of climates. Follow the temperate rainforest of the western side—where rain and cooler temperatures are likely—to the desert of eastern Washington and Oregon. It's a striking difference of both climates and scenery.
Whether you follow shorebird migrations, spawning salmon, or the harvest… pick your season and pack your bags!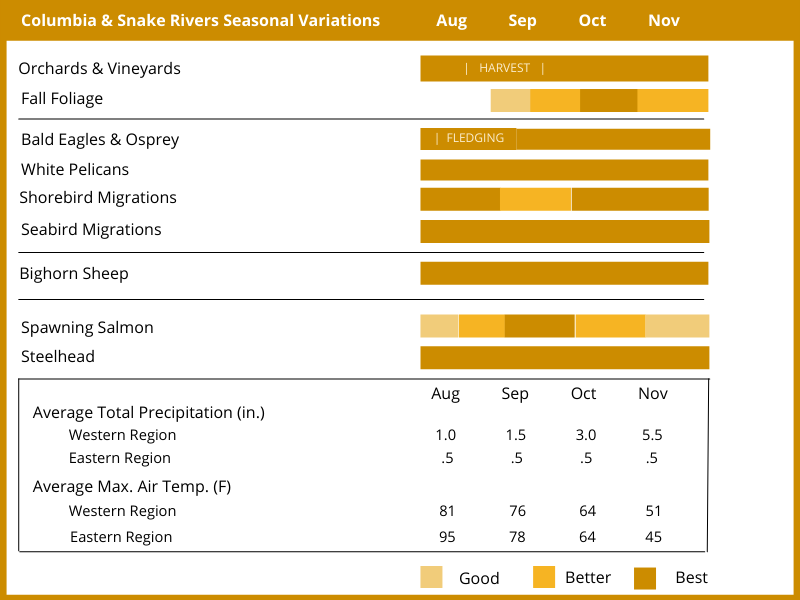 ---
Pacific Northwest | San Juan Islands
In the Pacific Northwest, spring bustles! Meltwaters flow from coastal ranges. Rhododendron and tulips bloom alongside trillium and currants. Fall is rich with the glow of red-orange-yellow foliage. And migrating birds pass through along the Pacific Flyway during both seasons.
Locals often tease, if you don't like the weather, just wait ten minutes—and they're often right! While each season offers unique conditions, we unquestionably believe our home region is gorgeous every month of the year!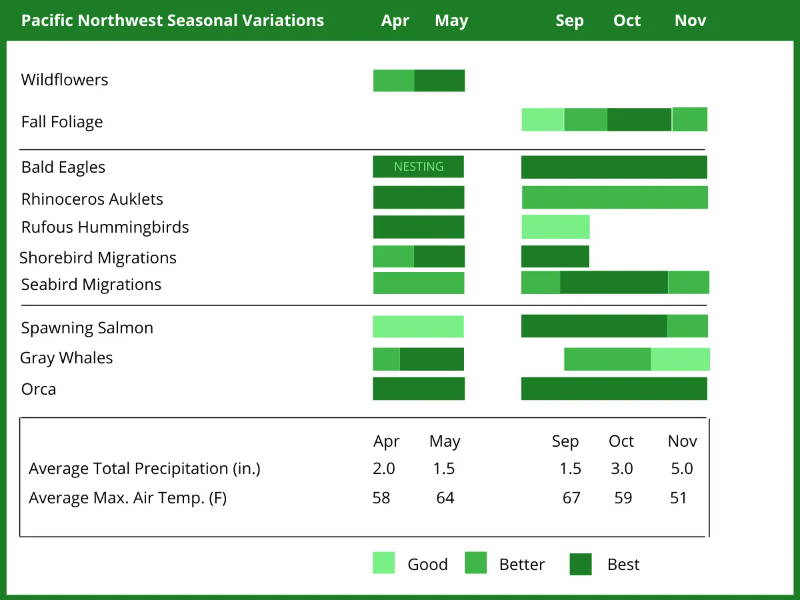 ---
Whether you're stoked to see the desert flowers in November or the Red-billed Tropic birds of March, it's always a good time to visit the Sea of Cortes.
The biggest changes are likely to be seen among migrating birds and marine life. Gray whales, for example, spend summers in Alaska and come to Mexico during winter months to have their babies in the warmer southern waters. From migratory to endemic, there is always unique and wow-worthy wildlife to see.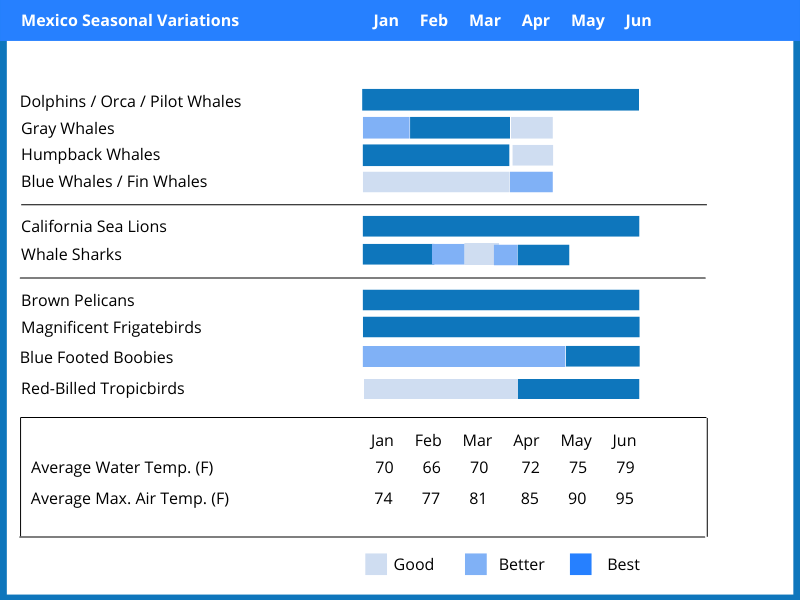 ---
Where to go and when? Both the dry and the green seasons offer much to see in Latin America. While the green season is characterized by more rain, in rainforest environments, rain can happen in any season. The green season generally runs from May to December, but it's more pronounced on the Pacific than the Caribbean side.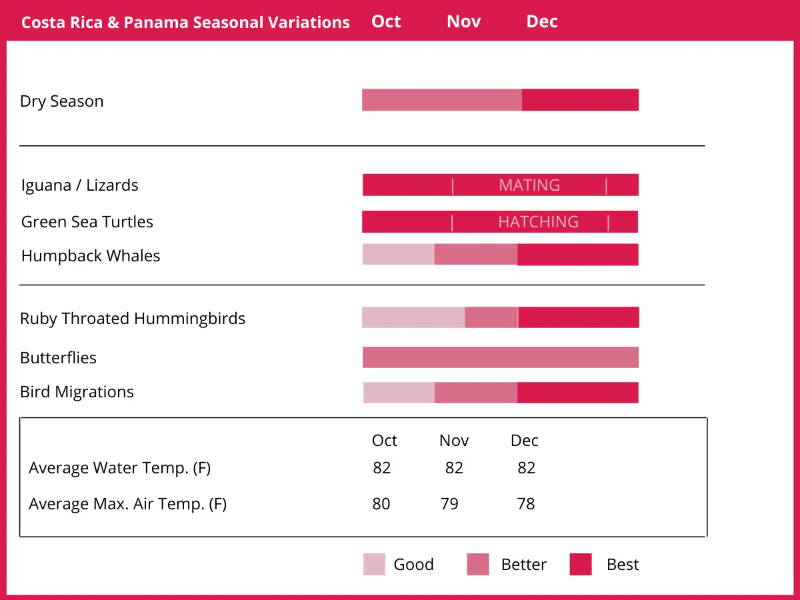 ---
The Caribbean coast, explored in our Colombia & Panama and Belize & Guatemala itineraries, experiences more year-round tropical showers. The result? Lush, green landscapes with average temperatures in the 70s and 80s. In any destination, rain is often a cooling respite from the heat. And because these five countries are so close to the equator—from 7 degrees to 17 degrees north—temperatures change very little from month to month.
A variety of wildlife sightings are possible any time of year, while some occur with the changing seasons. Wherever you adventure, this region is known as a migration crossroads. You never know what Mother Nature might have in store for you.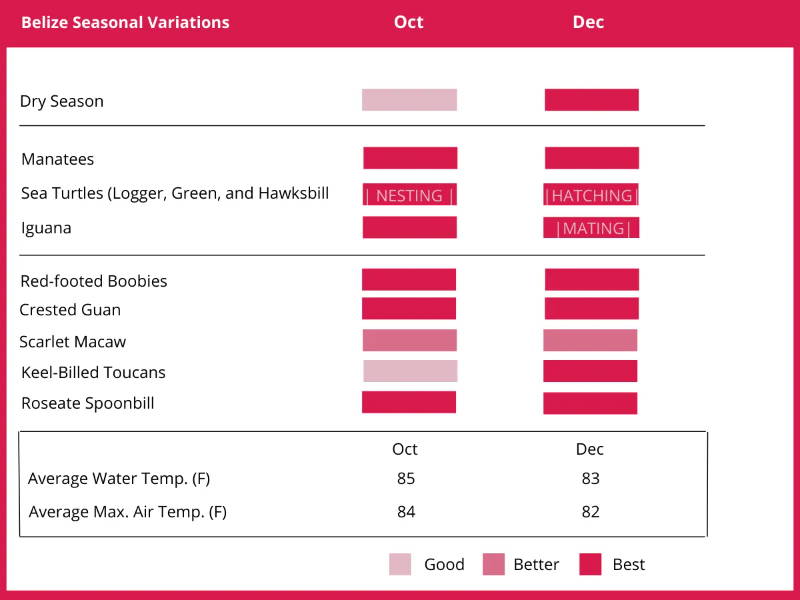 ---
With the Galapagos Islands' middle-of-the-earth location, temperatures stay consistent month-to-month, making these islands a great warm weather destination at any time.
There is some variation in the two seasons. December to June is warmest and with the most rainfall in short, daily showers concentrated in upper elevations. July to November is the Garúa season—named for a mist that forms in the highlands, providing moisture but not much rain. Lucky for you, the giant tortoises roam about year round. See when your favorite animals are mating and nesting and pick the departure that matches your must-sees.
"Everything was awesome! Best crew, best views, best adventure. I'm gonna miss this vacation!"
— Ally P., Poway, CA (Alaska)
Submit your own story or testimonial
Thanks!
This field is required
This field is required
This field is required