Cruises to Galapagos by Small Ship La Pinta
The elegant, recently renovated La Pinta reflects the combined dreams shared by captains, crew, guides, and guests over the years. This beautiful 48-guest yacht features spacious cabins with floor-to-ceiling windows and sophisticated yet relaxed decks and lounges.
In one of the world's greatest marine environments, you can be sure your surroundings are front and center. From bow to stern, the elegant and sophisticated La Pinta recently received a full interior makeover and would steal the show anywhere less impressive. Instead, she's the perfect complement to the great outdoors. Floor-to-ceiling windows in the lounge showcase the views with a décor that nods to the nautical. Geared up for adventure play and wildlife, the yacht also has a fun-to-explore expedition room lined with maps and artwork, a canopied terrace, and an alfresco dining area. Her Ecuadorian crew exudes friendliness, fueled by pride in their vessel, the Galapagos Islands, and a desire to share them both. Because some good things are too good to keep secret.
209' Length | 41' Beam | 10 knots or 12 mph | Decks 2 | Gross Tonnage 1438 | Built 2007 | Registry: Ecuador
48 Guests | 24 Cabins
100% Outside Cabins | 0 Balcony Cabins | 4 Triple Occupancy Cabins
1.7:1 Guest-to-crew ratio
Coming Soon 360 Degree Virtual Tour
Onboard Features include three public decks, on-deck hot tub, exercise room with fitness equipment, expedition room along with an outdoor sky bar and observation lounge.
The lounge features floor to ceiling windows, the library features historical materials, and the aft covered al fresco dining area also features the hot tub and bar. Perfection.
The Dining Room features open seating. Meals are served at table at set times. Unlimited beverages, alcoholic and non, are included in the price of the cruise. Vegetarian options are always available. Dietary restrictions are happily accommodated with advance notice.
Cabin Features: Floor-to-ceiling view windows; air conditioning; universal docking station; hairdryer, conditioning shampoo, body wash; in-room safe deposit box
Main Deck - The Dining Room and Galley, along with Reception, the Doctor, and Crew quarters.

Cabin Deck - All of the guest cabins are on this level, with the Admiral cabins aft.

Sun Deck - Lounges indoors and out (the Sky Lounge is al fresco, though covered for shade), as well as the library and fitness equipment indoors and the bow viewing area outdoors, accessible from the Lounge.
---
Cabins provide floor to ceiling view windows, air conditioning, a universal docking station, conditioning shampoo, body wash, hairdryer, and an in-room safe deposit box
Cabins 301 - 320. Sitting area; queen, fixed queen, or twin beds; desk and chair; private bath with shower; safe deposit box.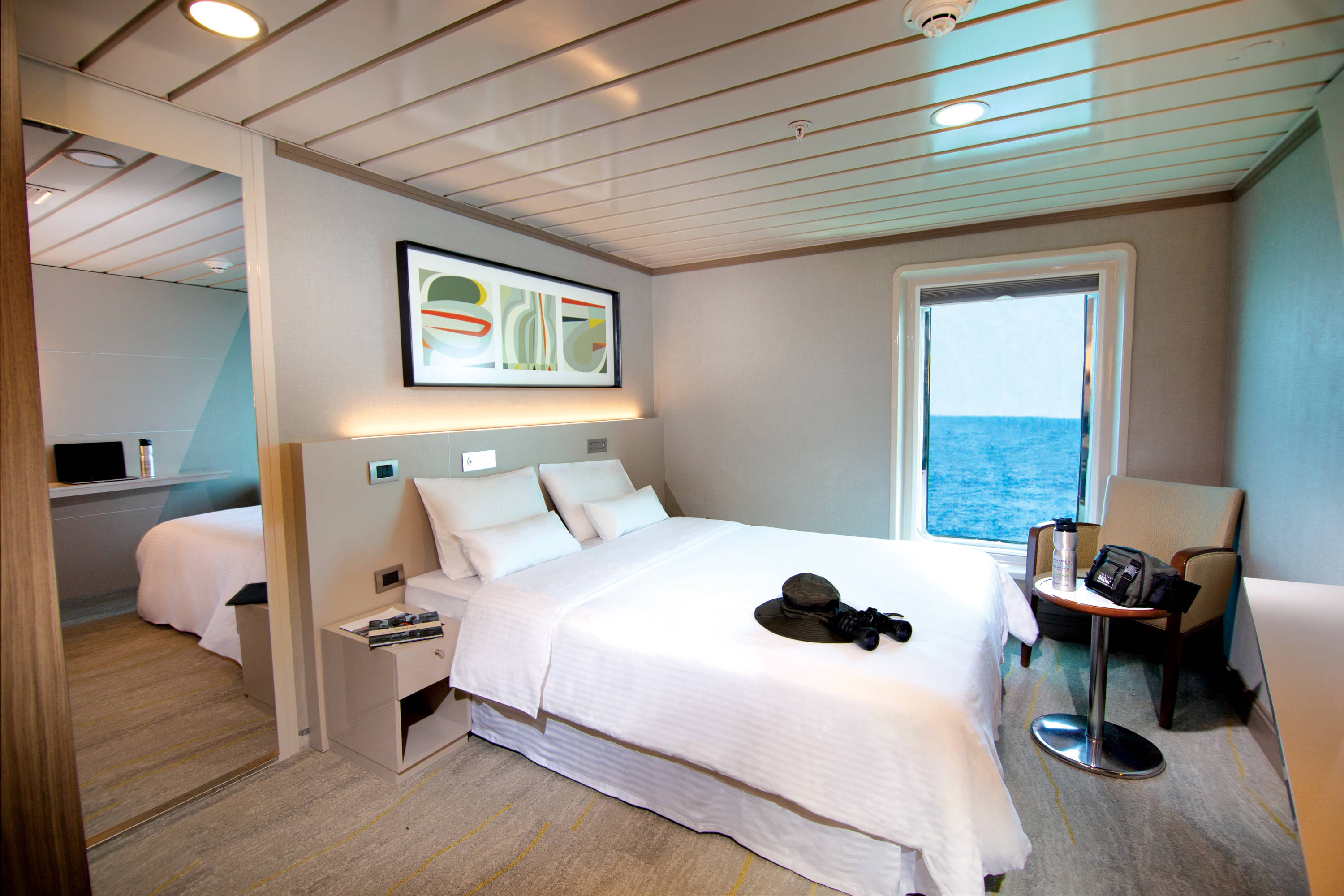 Cabins 321 - 322. Sitting area with foldout couch; queen or twin beds; desk and chair; private bath with shower; safe deposit box.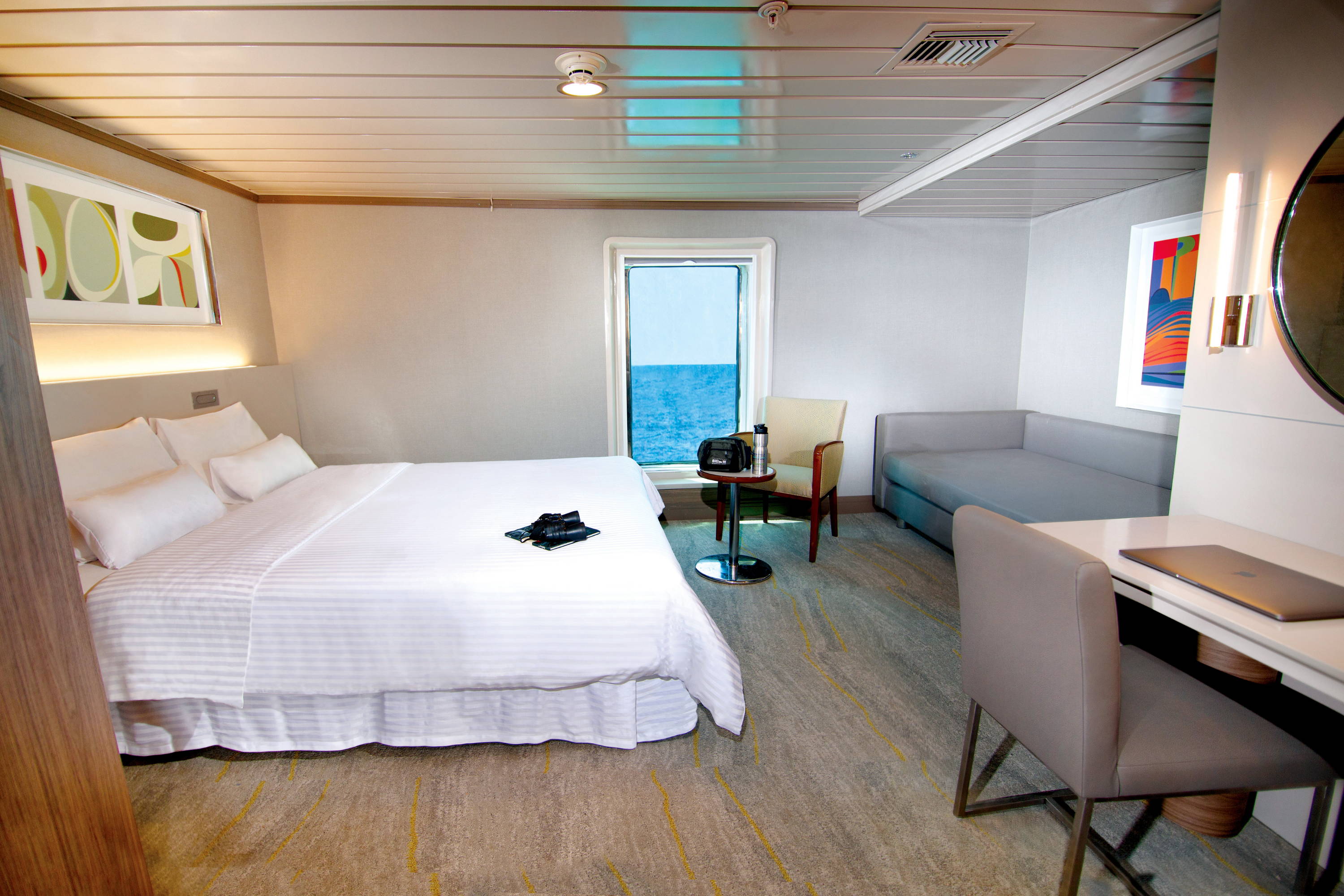 Call an UnCruise Specialist or Your Travel Advisor | 888-862-8881