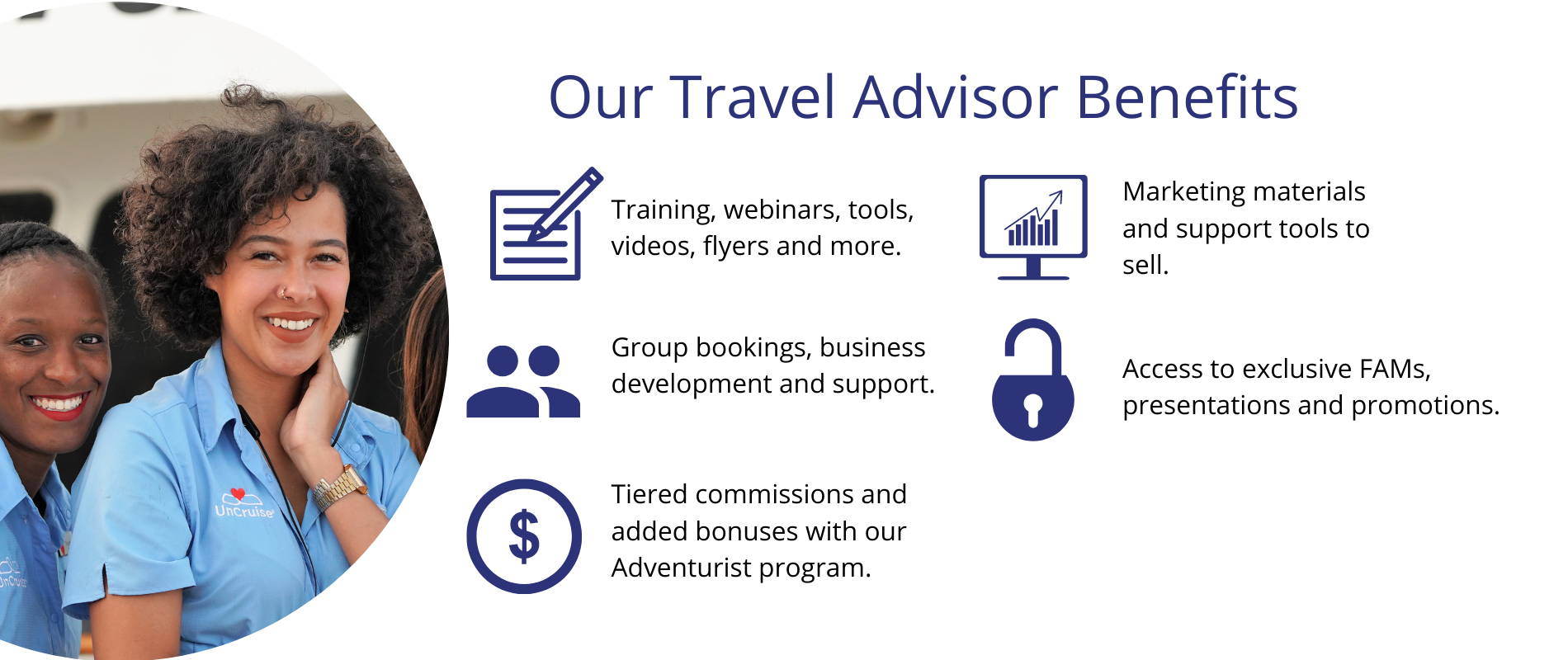 ---
---
2021 UnCruise Adventures Find A Travel Agent e-booklet FAQ's
Q: How do I get listed in the e-booklet?
All agents listed in our Find an Agent e-booklet are certified UnCruise Adventurists who have provided a passing score on our Adventurist exam.
Q: How do you get certified? It's as easy as 1, 2, 3!
1. Watch three live or archived webinars to learn about UnCruise Adventures and our product.
2. Pass our online exam, and one of our Adventure Specialists will reach out to you.
3. Receive your certificate, officially certified logo, press tools, additional commission, AND the best part, you will be listed on our consumer facing website so you can receive leads!
 
Q: I am ready to become an Adventurist! Where can I find the exam?
Our exam is accessible on our website footer or the following link here; https://uncruise.com/pages/certified-adventurist
Q: Where can I find the archived webinars?
Grab some popcorn! If you miss any of our live webinar, you can watch our archived webinars on our Partner Page; https://uncruise.com/pages/uncruise-partners
Q: I am currently an Adventurist, how do I get featured in the e-booklet?
UnCruise Adventures highlights our top Adventurists (Grand Adventurists), who qualify by producing on average, 20+ berths a year or about 1 UnCruise Adventures bookings a month. We would love for you to join our Grand Adventurist list and spotlight you as well!
Q: How to ensure I keep my Adventurist status and am listed in the e-booklet?To stay a small ship expert and keep your Adventurist status, you will need to make at least 1 UnCruise Adventures booking every 24 months. Easy, right?
Q: I am an Adventurist, why am I not listed in the e-booklet?
One of three reasons: either you haven't booked your clients on a spectacular UnCruise Adventure voyage in the past 24 months, you aren't a retail travel agent, or it was simply an oversight. If an oversight on our part, please reach out to Julieq@uncruise.com and we will update your status.
Featured Video Trainings & Archived Webinars
How To Sell Small Boat Cruising 2021


Cruising in the Time of COVID 2020


Alaska Land & UnCruise 2020


What's New With UnCruise 2020


Small Boats. Small Groups. Small Footprint.
Location. Location. Location. 2020


Small Vessels. Big Experience. 2020


Be Adventurous with Us Video Campaign


What's New With UnCruise 2020