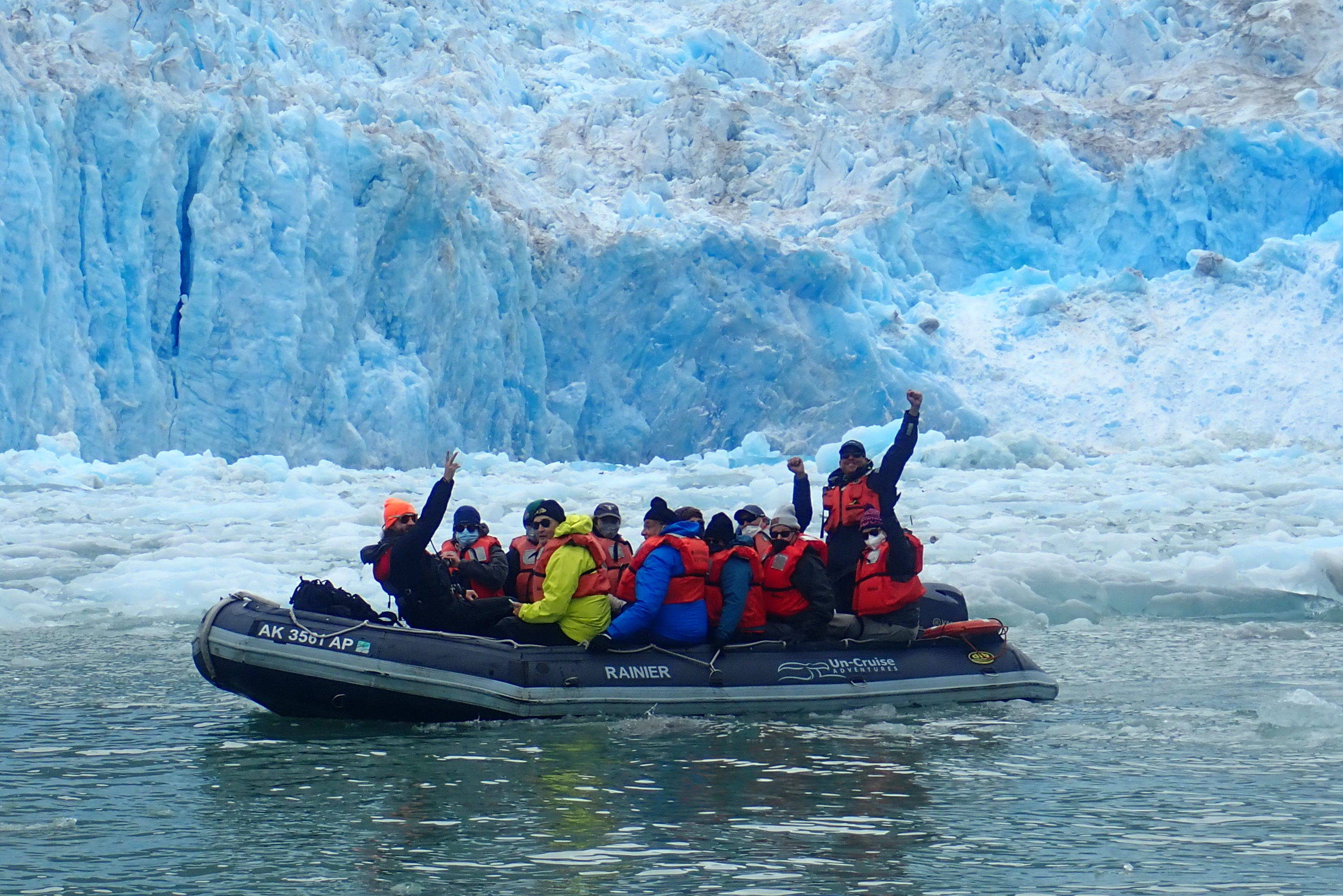 This Cruise Savings is No Longer Available
  888-862-8881 | sales@uncruise.com
Alaska is a once-in-a-lifetime experience and bucket list adventure. Learn more about this captivating experience onboard our small expedition vessels from 22-86 guests. When they have neon disco lights, we have Northern Lights and starry skies. Our Adventure, Thier Adventure. Set Yourself Apart.
Cruises starting at $4800 per person for Alaska Fjords & Glaciers, save $2000 per couple domestically and $3000 per couple internationally with arifare credit applied.*
Browse 72-Hour Flash Sales Itineraries Below
Included in your fare:
☑️Group transfers and baggage handling between airport/vessel on embark/disembark day
☑️Entry fees to national parks/preserves
☑️From-the-vessel adventure activities and all gear and adventureequipment
☑️Exclusive activities and shore visits
☑️All meals and snacks aboard the vessel
☑️Premium wine, beer and liquor (excludes super-premium wines)
☑️Non-alcoholic beverages
☑️Wellness amenities & fitness equipment
☑️Onboard expedition/heritage guides and guest experts
☑️Eco-friendly bathroom amenities
Activity levels range from 1 to 10 - Light, Moderate to "Hard-Charger."
*Terms & Conditions Apply. Total savings to be taken off the full cruise fare – no proof of airline receipt required. Not combinable with any other offers outside of Loyalty Savings. Flash Sale savings applies to new bookings only. $100 non refundable deposit per person must be secured by end of Flash Sale. Other restrictions may apply. Refer to full terms and conditions for payment terms
Let's Chat | Save Your Cabin
Send us a message and get a quote. Your inquiry does not automatically confirm a booking.
So Much to See and Do - What to Expect
Wildlife, Nature, Culture, Connection
If a picture is worth a hundred words, our videos are worth thousands (and really, who wants to read thousands of words on a website?!) See for yourself just what you are getting into, up close-and-personal in our destination videos. See our wildlife, sea life and nature adventures with no lines, no crowds and BIG adventure.
Comfort, Companions, Crew
The ship is NOT the destination on an UnCruise, but that doesn't mean you won't be comfortable! The food is gourmet farm-to-table. Your pastry chef may join your afternoon kayak group after whipping up amazing desserts for later! Your cabins are snug with a place for everything. Small, but all ocean view. Comfy lounges to chat with new friends over a craft beer, scratch cocktail, or glass of wine.
All-Inclusive Popular Destinations
Click to search our small boat itineraries and locations for any season. Trade those snowballs for crystal clear waters in Mexico for the winter, and leave the heat for our liquid sunshine in Alaska this summer! Adventures are 7, 12, or 14 nights, plus land options for pre- and post-cruise adventure.
View All of Our Destinations
Watch our collection of destination videos along with our series of fresh, local, inspired dining playlists and listen to our podcast. All on our YouTube Channel. Looking for more. Let us know at pr@uncruise.com