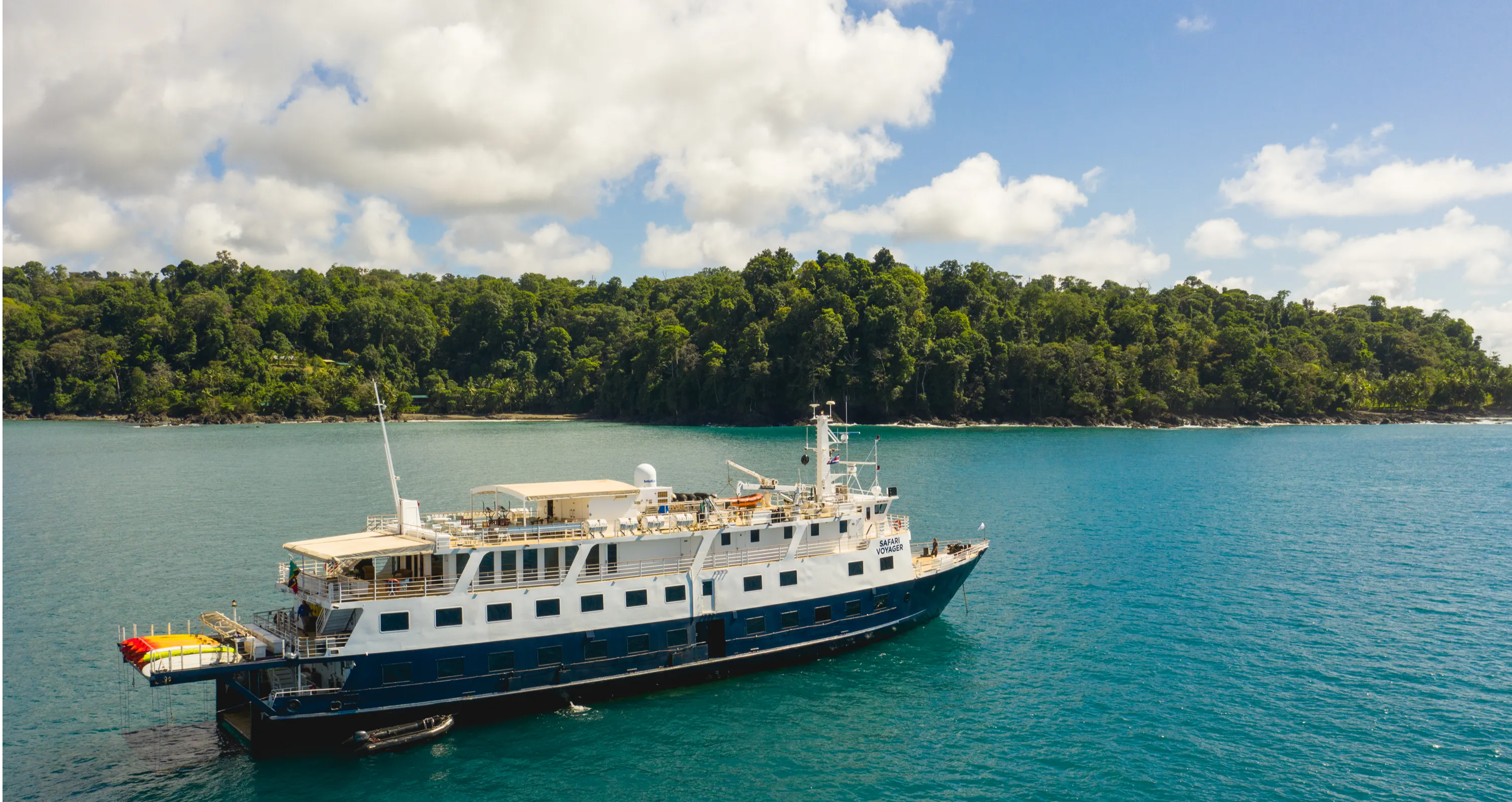 7 Night Costa Rica & Panama Vacation Cruise | This Itinerary is no longer offered.
On a Panama and Costa Rica cruise, humidity soothes from the outside in. Ocean, sky, or palms—painted with the brightest blues and greens. Howler monkeys and hummingbirds lure you along jungle hikes. Fragrant orchids creep out from mangroves. Villagers display their woven baskets. And strolls through ancient walled cities and sleepy coastal towns feel like a step back in time.
Enjoy a skiff in the mangroves, kayak through the Chagres River, or hike in the Osa Peninsula with wilderness and wildlife never far away. This is a place to snorkel in warm waters and hike your way through lush jungles on an itinerary that suits your style. You will see some of the most colorful wildlife—from scarlet macaws to spotted eagle rays—in Costa Rica, Panama, Colombia and Guatemala.
What To Expect In Costa Rica | Panama
Vines cascade into pink flowers springing from a swath of green. Spongy mushrooms cantilever out of Caribbean pine. A line of leafcutter ants trots along the forest floor bringing sawed off bits of green to their home. Your guide points out a flash of a monkey high above as a Red-capped Manakin does his dance in the trees. Welcome to the jungle.
The rainforests are lush; the snorkeling, a kaleidoscope of color; and the beaches, even better than in pictures. Duck under the palms for a hike beneath the jungle canopy in Costa Rica and Panamá. Snorkel Cousteau - style among the cayes of crystal clear waters. Soak up local culture in seaside towns of Guatemala. This is the paradise you've dreamt of—white sands,crystalline waters, neon fish—plus high adventure led by your expert, enthusiastic guides. Hike, paddle, and play your way through this diverse part the world.
Included in your fare:

Group transfers and baggage handling between airport/vessel on embark/disembark day

Entry fees to national parks/preserves

From-the-vessel adventure activities and equipment

Exclusive activities and shore visits

All meals aboard the vessel

Premium wine, beer and liquor (excludes super-premium wines)

Non-alcoholic beverages

Wellness amenities

Onboard expedition/heritage guides and guest experts

Refer to your final guest documents for any additional inclusions specific to your itinerary and vessel

 
Not included in your fare:

Airfare to and from your home city

Discretionary gratuities to vessel's crew

Travel protection

Optional excursions and land tours

Port taxes/fees (except La Pinta)

No onboard wifi
"What a wonderful trip. The crew were so helpful and friendly. The islands deserted and wonderful snorkelling. Met lovely people, we all got on so well."
Paul B., Dorset UK
"This was our 3rd UnCruise adventure. Each one we do is better and better. My husband says this last one was THE BEST! We love the crews, the food, the nature, culture and history of Panama and Costa Rica on our Safari Voyager ship. Can't wait for the next best trip on Uncruise, we're hooked."
Georgia S., PA
"One of our fondest memories (of many!) with UnCruise is of the Costa Rica and Panama adventure. Just spectacular scenery and wildlife. Would highly recommend it for anyone contemplating a Central America cruise."
John W., AZ