7 Night Belize Vacation Cruise | Oct - Nov
What does a Belize vacation with us look like? Cruise, kayak, paddle board, and snorkel the Barrier Reef. Discover local culture through food, song, and stories, and hikes through jungles and savannah of this Caribbean paradise.
Cruise the Belize Barrier Reef and trek into the jungles and towns of this Caribbean paradise.
DAYS UNTIL SAILING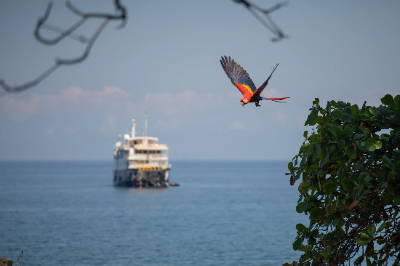 Belize & Guatemala Wonders, Rivers, Reefs and Cultures 7 Nights
The places you visit play a starring role throughout every journey. While this list isn't exhaustive of every nook-and-cranny you'll explore along the way, we've included descriptions of key ports and places to help you get to know the wilderness areas, landmark locations, notable regions, and coastal towns relevant to this itinerary.
"Absolutely an enchanting adventure…. The cultural exchanges were our highlight: the sacred valley of Halawa; the fabulous dinner and entertainment at the museum; our encounters with spinner dolphins; a skiff ride to the turtle sanctuary; the snorkel experience off the Big Island; the taste of freshly cut pineapple; dance party on deck; magical double rainbows; stunning sunsets; the interesting people we met (crew members and passengers); the fun of sharing all our adventures with our friends…." 
Kathleen C., Sequim, WA
"Crew was very knowledgeable and diverse in their perspectives but all were extremely accommodating. Loved having the captain talk to us on her role and navigation logistics—she was impressive. … [The expedition leader] went above and beyond with making sure that I saw a hawksbill sea turtle (and I am terrified of the water!)... And I am so grateful! It was a lovely achievement for my 70th birthday." 
Gail B., Burlington, IA
"When I got onboard, I soon met many returning passengers and I quickly saw why — this is perfect! I love the flexibility of the schedule." — Rosalie M., Cincinnati, OH (2015)
Rosalie, M., Cincinnati OH
our own bubble in the wild. And we'll do our darndest to keep it that way. Prior to getting on board an UnCruise, precautions are taken to ensure guests and crew alike arrive healthy and the risk of spreading a bug is minimized during your cruise. Crew members are fastidious about cleaning and safety protocols. Check out our triple testing protocols.
We go places others can't and get you up-close-and-personal with nature. No queuing up hoping to get in on the action or FOMO. There is room for everybody no matter how you choose to spend your time. Kicked back or go, go, go. Choose daily activities that fit your adventure level. Presentations from your expedition team can happen outside on deck or in the lounge. And on most boats, you can even listen in from your cabin. Check out the full experience.
Share a laugh and cocktail in the lounge with your new comrades. Chat up your captain and mates on the open bridge. Watch for wildlife or take a quiet moment on the bow. Time to enjoy comfortable adventure with like minded travelers and award winning itineraries and cuisine.