Define Your Un-Ness With Our Backstage Pass
Scenic bays and culturally immersive excursions grant you windows into worlds most travelers don't ever see. A mule ride with a family of rancheros ambles into the unexplored at a local pace.
We define un-ness as breaking away from the masses. Challenge. Freely used to release, exemplify, or intensify a force or quality. To engage, connect, and explore unique places, oneself, and with others on a most uncommon adventure.
These features are common across all vessels: Narrative Interpretation; Meals; Spirits/Wine/Beer; Non-Alcoholic Beverages; En Suite Facilities; Hair Dryer; Book/DVD Library; Casual Atmosphere; Attentive Service; Fitness Equipment; Open Bridge
Our fleet of small boats features expedition vessels and boutique yachts—each one uniquely suited and equipped to provide an unbelievable experience. The shallow draft makes each vessel capable of nimble exploration and gives access to the places big ships cannot go. Public and private spaces are loaded with amenities and designed for casual comfort.
We recommend first picking your destination and itinerary, and then, where there's a choice, choose your vessel preference. Whichever vessel and destination you choose, it'll be an uncommon adventure full of discovery!
It doesn't take long for guests and crew alike to get to know one another. And while you have your own private, cozy cabin to retreat to… adventure activities, meals, and comfortable and spacious community spaces mean spending time with your fellow adventurers. If you're wondering who it is you might be traveling with, our guests hail from all walks of life—a range of ages, places, and lifestyles; couples, singles, and generations of family; educators and the educated (be it the school-of-life or a PhD); and savvy-travelers, entrepreneurs, even celebrities. Rest assured—our guests are likely a lot like you! And we are pretty sure you'll quickly find common interests.
So join in with other stargazers picking out constellations in the night sky from the bow, match up with a new compadre for sharing a kayak, or enjoy the company of a different group mixing up the tables at meal times.
While our guests quickly find commonalities with one another—shared hobbies and interests, travel experience, career paths, sometimes even hometowns, every guest's story is unique. And the individual journeys that brought each guest to an UnCruise adventure is one of the great things that makes our cruises so unforgettable—and unduplicatable. Sharing stories during morning coffee—albeit sometimes sleepily; over hors d'oeuvres during social hour; or making lifelong memories captaining a kayak together. In fact, many of our guests create such tight bonds of friendship while aboard, they become lifelong friends and choose to sail together (with us) again in the future!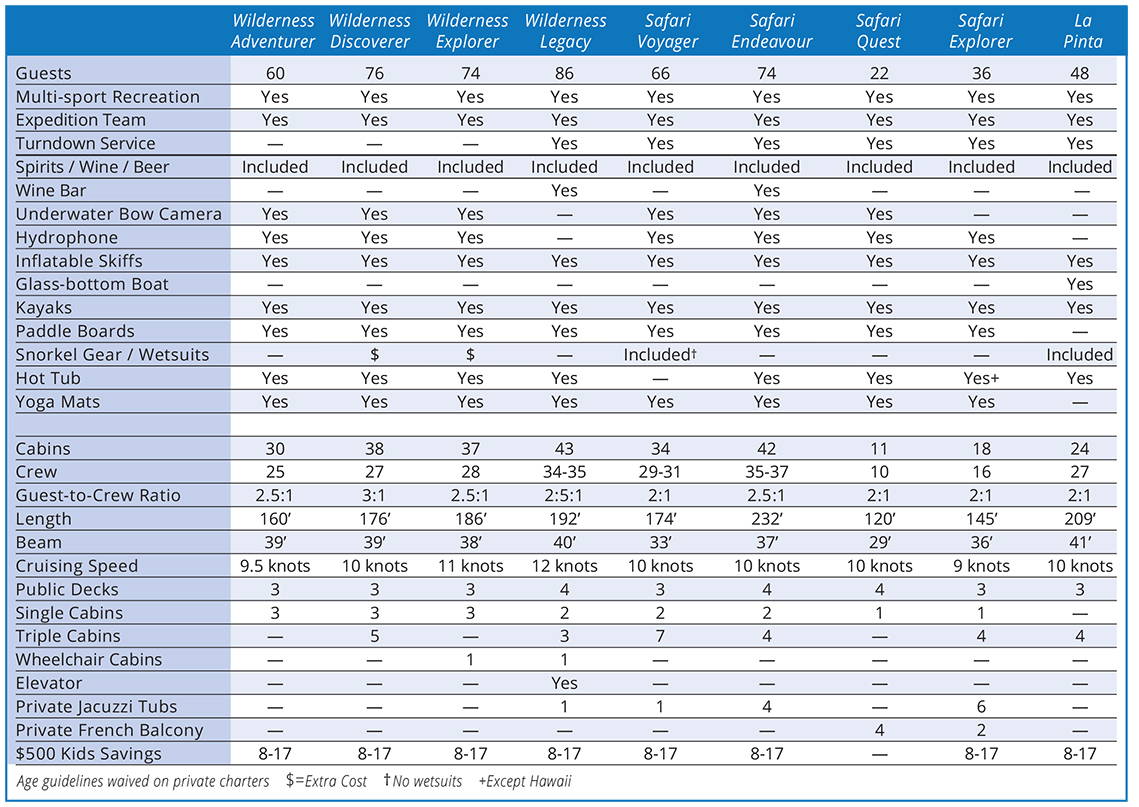 No lines. No crowds. BIG adventure.

See All Ship Details with a Click
---