San Juan Islands and Olympic National Park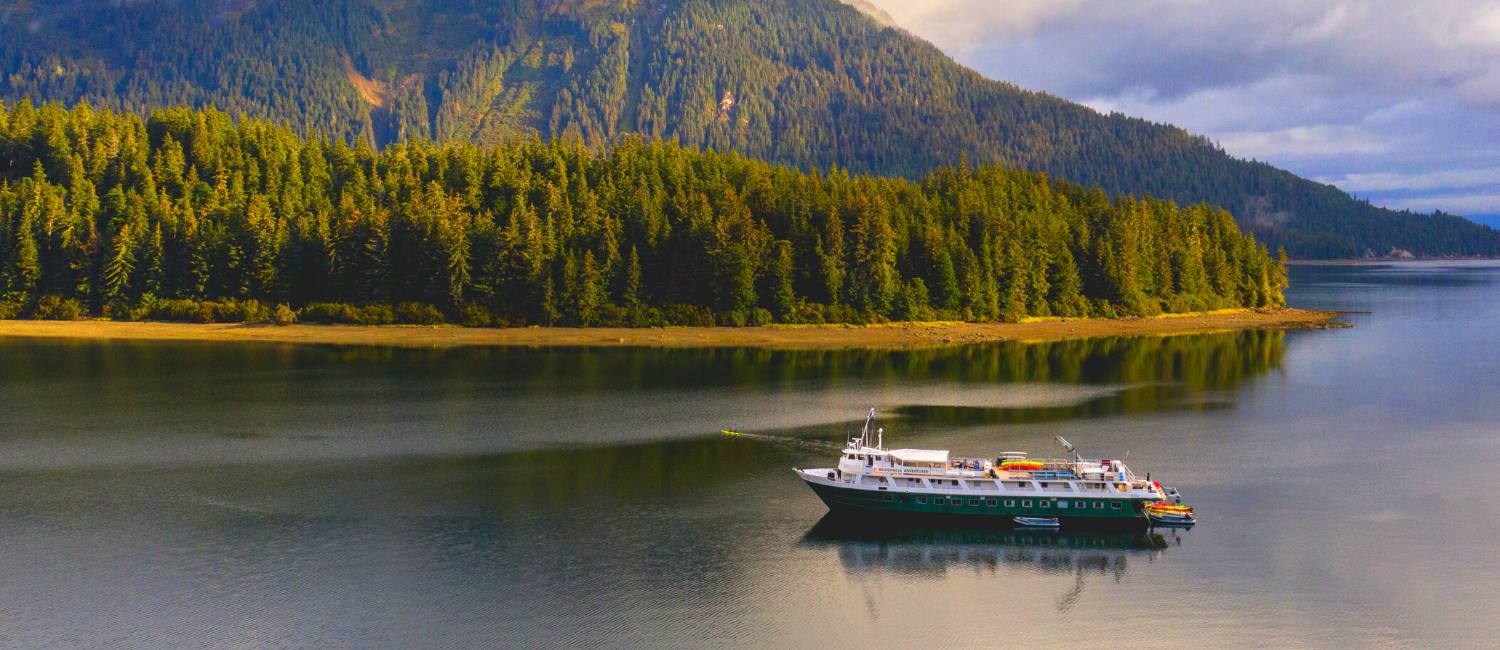 Hike Among Nature's Giants. This itinerary is no longer offered.
Discover the secret places along Washington's wild coastline on a San Juan Islands cruise. Kayak among rocky outcroppings, spotting sea life. Explore dramatic Deception Pass by skiff. Hike mossy island forests frequented by red fox, deer, and woodpeckers.
INCLUDED HIGHLIGHTS:
Olympic National Park—UNESCO World Heritage Site, San Juan archipelago, and Deception Pass

Kayak, paddle board, and skiff in glacial fjords and winding island channels

Hike in temperate rainforest, old growth forest, state parks, and Mt. Constitution

Watch for whales, orcas, seals, sea lions, eagles, and sea birds

Birding opportunities

Taste local oysters and clams

B=Breakfast, L=Lunch, D=Dinner
Your day-by-day details | Roundtrip Seattle, Washington
Day 1 Seattle Embarkation
Seattle was founded along the shores of Elliott Bay. Today, set sail from picturesque Shilshole Bay and cruise along the city's shoreline before dropping anchor in a tucked away cove. (D)
Day 2 Salish Sea & Deception Pass
Wake up surrounded by the wilderness of the Salish Sea. Today, there are many opportunities to investigate this sea-salty playground of islands. A guided kayak reveals local inhabitants—sea stars, anemones, jelly fish, perhaps even inquisitive harbor seals. Walk along a curiosity-rich intertidal zone or stretch your legs on a mossy hike. And tides and current permitting, sail through swirling waters of Deception Pass. Cap off your first day of adventure with a front-row view of the sunset from the bow. (BLD) 
Day 3 Lopez Island & San Juan Island
You've landed in one of the most scenic areas of the Salish Sea. The rocky outcroppings of Lopez Island play host to harbor seals—and it's also orca territory. When kayaking, keep your eyes peeled above and below the surface. Join your expedition team on deck searching for whales, seals, and sea lions as you cruise through the myriad San Juans—no two islands are the same. Drop anchor near San Juan Island—the second largest landmass in the archipelago—to explore tide pools and skiff or kayak into hidden coves, as conditions permit. (BLD) 
Near the U.S - Canada border, Stuart Island Park hosts today's adventures. Hikers head up to higher ground to see the Turn Point Light Station or walk the shoreline looking for tidepools. Or hop in a kayak with a cabin mate or newfound friend and explore the wildlife of the coast from the water. Take a skiff tour for great photo opportunities. (BLD)
Day 5 Orcas Island & Mt Constitution
Your Captain navigates through the islands to your basecamp at Orcas Island--for a day of play where the options are unending. A local favorite, hike Mt. Constitution--it's the highest peak in the San Juan Islands (2,409 feet high) and has a mind-blowing view of the archipelago. If you're interested in skiff exploration or more paddling, the kayaks and paddle boards are up for grabs. (BLD)
The treats keep coming! With no paved roads or even ferry access, enjoy your day on picturesque Sucia Island—total year round population of four—a Washington State Marine Park filled with hidden coves and bays. You feel a million miles away from it all, exploring the intertidal zone with your guides, hiking across the island, and kayaking in a protected bay. It's all up for grabs. (BLD)
Day 7 Olympic National Park
Hike in Olympic National Park—a UNESCO World Heritage Site—surrounded by rainforest, old growth forest, and top of the world 360 degree views. Your trek to Crescent Lake takes you through breathtaking wilderness. On a clear day, you can see Canada across to the Straits of Juan de Fuca. This evening, wrap it up with a Farewell Dinner and slide show highlighting your week's adventures. (BLD) 
Day 8 Seattle - Disembark
This morning, cruise into Seattle at Shilshole Bay. After breakfast, the Captain and crew bid you a fond farewell. Safe travels to all! (B) 
Passport required for non - U.S. citizens. Itineraries are guidelines; variations in itinerary and the order of days may occur to maximize your experience.