I'm Excited for 2022 Cruising!
Book Me On An Alaskan Adventure
7, 12, & 14 Night Adventures | May - Sep 2022 & 2023
Life on the outside. Our Alaska cruises deliver adventure, action, exploration, and the unexpected—paddling and hiking, calving glaciers, Glacier Bay National Park, bears, whales, and polar plunges. Nobody does Alaska better. Alaska boasts the most itineraries of all our destinations, with more itineraries than any other cruise line.
Whether you go for 7, 12, or 14 nights, there truly is a trip for everyone. From early April into May, Southeast Alaska awakens. Bears, baby animals, migrating grey whales and birds, budding forests, snow-covered peaks, gushing waterfalls, and Aurora Borealis sightings can be part of your experience. Plus, it's crowd-free. Long days of Alaska summers mean extra playtime. Temps are warmer, so there's better access to higher elevation hikes. And humpbacks are back en masse. Come summer's end and into early fall, wildlife gets busy—mating, migrating, and feeding up for winter. Spring awaits in Alaska for your Alaska Awakening!
Save $1500 Per Cabin On Select Sailings For April, May & June 2022
Wildlife, Nature, Culture, Connection
Active Lifestyle Choose Your Adventure
All-Inclusive Popular Destinations
See us up close-and-personal in our destination videos. See our wildlife, sea life and nature adventures with no lines, no crowds and BIG adventure.
Find more on our upscale amenities, high-end cuisine, unlimited open bar, on vessel lounges full of friendly adventurers and daily mulit-activity excursions to choose from. Adult-only specials now available.
Click to search our small boat itineraries and locations for any season. Trade those snowballs for crystal clear waters in Mexico for the winter, and leave the heat for our liquid sunshine in Alaska this summer!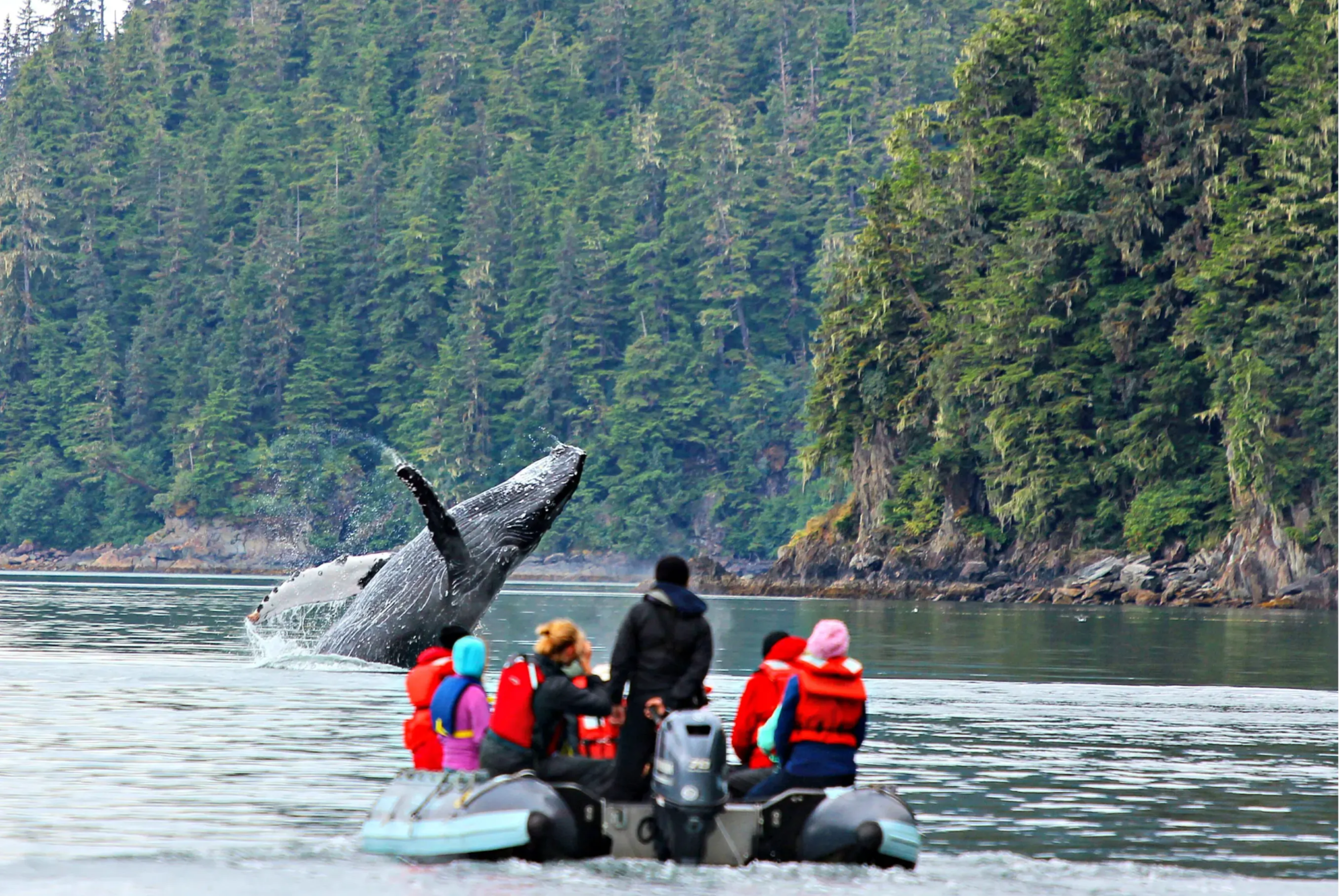 When liquid sunshine hits, we've got you covered. Life on board in Alaska means wildlife sightings from the bow and a warm drink at the ready. You'll see plenty of wildlife. Humpback whales. Seals, sea lions, and sea otters. Eagles and oystercatchers. We love the Alaska wildlife and we know you will too  
We are know for our daily activities so get ready to put boots on the ground. Paddles and spray skirts at the ready. Cameras in hand. Water bottles filled. Your guides—highly trained to keep you safe and confident in the field—are prepped to lead the charge. Our inclusive Alaska cruises feature these activities at no extra charge. So get out there. Try something new. There will be warming beverages and hearty stories to tell back on board.
Choose from hiking, kayaking and paddle boarding, skiff rides, whale watching, northern lights viewing, jump into a polar plunge or learn about native Alaska cultures and tribes.