SAFETY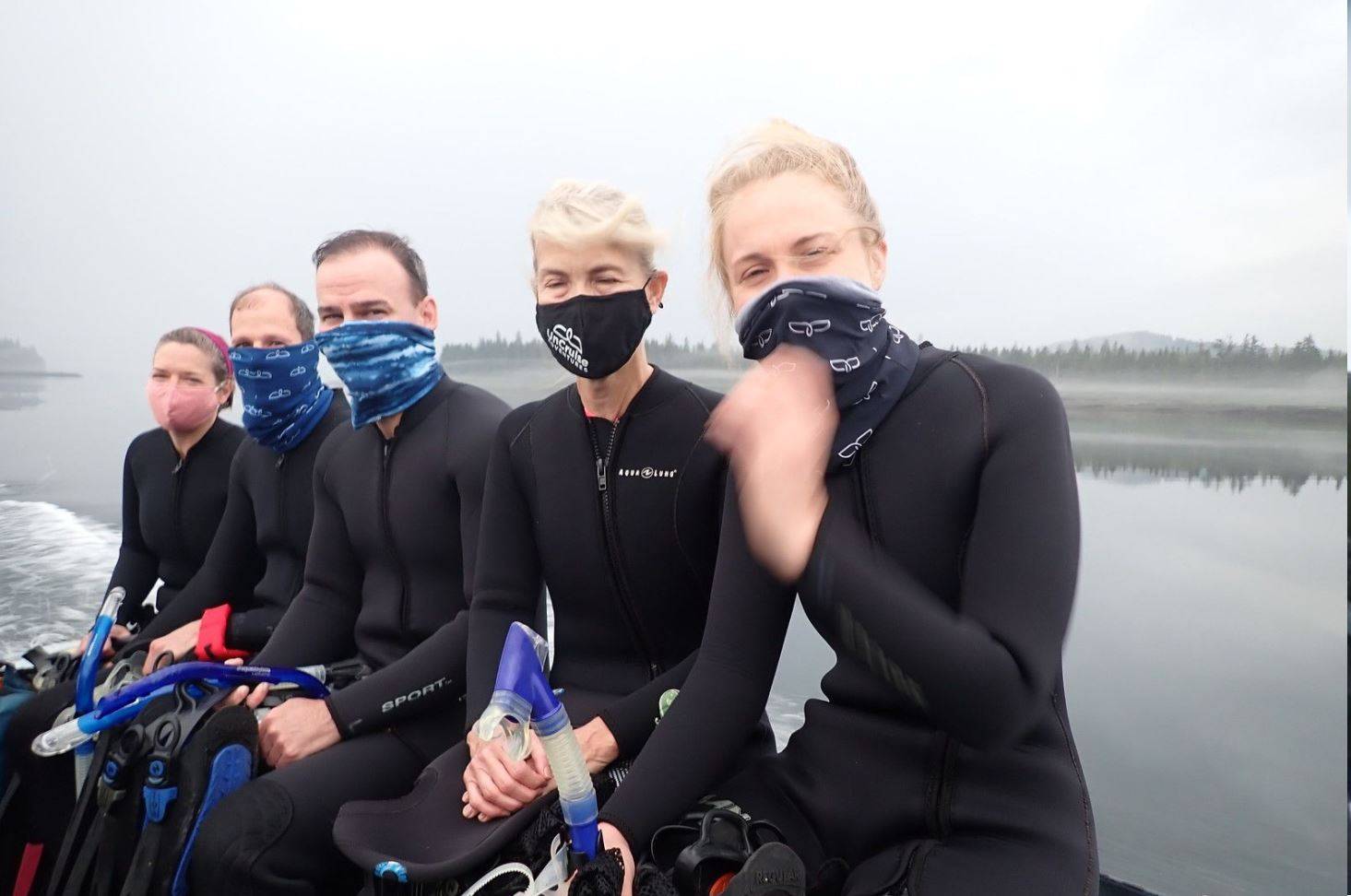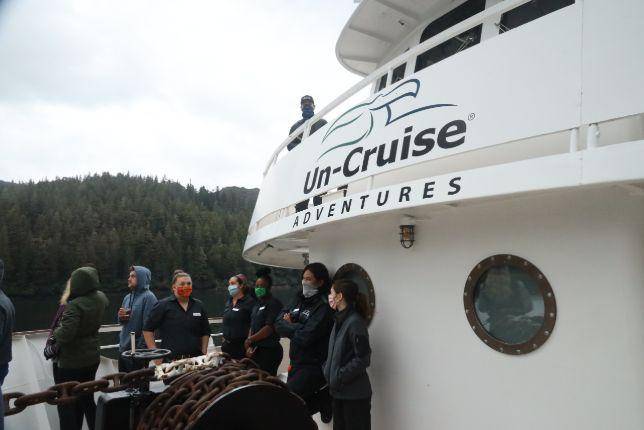 Our guests and crew always come first, and we want to assure you that their health and well-being is our top priority. That is especially true in the ever-evolving world of COVID-19. We ensure that your experience with us is our top priority.
It is essential to note that the prior no-sail order for cruises put in place by the U.S. Centers for Disease Control and Prevention only applies to ships with more than 250 passengers and crew. We have been exempt from this order, and our U.S.-based, U.S.-flagged, U.S.-crewed vessels have put initiatives in place to advocate for the betterment of small boat travel and its guests. You can see more on how the new small-boat coalition has become a united voice in preparing to safely return to travel. Our UnCruise Adventures CEO, Dan Blanchard, has been the architect behind the formation of the U.S. Overnight Passenger Small-Boat Operators Coalition.
From all of us at the UnCruise Adventures family, thank you and be safe. We look forward to experiencing life in the outdoors together again—rain or shine.
FAQs
Q. Will UnCruise Adventures be canceling cruises due to COVID-19?
Our 2020 sailing season was suspended. We restart operations in April 2021. In the case that there is a future suspension that affects you, either an UnCruise Adventures sales counselor or your travel advisor will notify you directly. We hope you are excited to join us onboard our small boat adventures when travel emerges and rapid testing is more widely available.
Q. Will UnCruise Adventures be requiring a COVID-19 vaccination to board?
The Coronavirus vaccine is a significant milestone for cruise line travel and we are anticipating continued enhancements in protocols. While we wait for more vaccine results and individual state requirements, we have not implemented a vaccine requirement at this time. More updates will be available in early March.
Q. Will our trip insurance protect us?
This is a decision determined by your insurance policyholder and not UnCruise Adventures. Most travel insurance providers are not offering the ability to cancel with a refund or approving claims for Coronavirus related fear of travel issues. We encourage you to reach out to your individual providers to confirm details.
Q. Will departures and protocols change?
This situation continues to be fluid, and we will constantly monitor developments as they arise and adapt accordingly. None of us can be certain of each outcome but we are confident in our ability to support our guests and crew while continuing to provide an unforgettable adventure on our small American-owned and -operated boats. See added safety protocols below.
Q. Who do we contact for more information?
You can reach an UnCruise sales counselor at sales@uncruise.com or contact your travel advisor directly.
Q. What is the UnCruise Adventures pre-cruise and embarkation process for COVID-19?
Both domestically and internationally safety has always been at the forefront of what we do. For now, our comfort zone for return to travel is simple: Isolate, test, and use reasonable caution while aboard our vessels, including:
Completed pre-travel health questionnaires.
Required negative COVID-19 testing certificate presented pre-embarkation.
Pre-boarding screening protocols administered by our crew and denial of boarding to guests with:

Elevated temperatures.
Cold or flu-like symptoms.
Other symptoms of concern.

Uncruise managed pre-cruise transportation directly to our vessel. (Alaska only)
Arrival on the day of your departure/embarkation is requested. (Alaska only) Please enjoy Juneau/local communities after your small boat adventure.
Thorough crew health testing and evaluation.
Q. Are these onboard protocols for all UnCruise Adventures itineraries?
Yes, these health and safety protocols are currently required to minimize risk for all of our upcoming departures in 2021. We will continue to update the requirements for other itineraries as they are available.
Q. What are the UnCruise Adventures onboard protocols for COVID-19?
Daily temperature checks for guests and crew.
Daily sanitation of all touchpoints in staterooms, with attention to handles, doorknobs, switches, etc.
Sanitation rounds conducted four times daily with attention to all touchpoints, such as railings, handholds, doorknobs, etc.
Sanitation of adventure gear and equipment after each guest's use.
Use of personal protective gear such as masks during certain events and as situations may require.
Placement of additional hand sanitizing stations throughout the vessel.
Plated meal service to replace buffets.
Cocktails and hors d'oeuvres will be kept behind transmission barriers and passed to guests individually.
Crew to exercise social distancing best practices at all times.
Crew member training in COVID-19 symptom observation, identification, and reporting.
Crew training compliant with federal procedures including thorough PPE equipment training for all crew members.
Onboard supply of personal protective equipment (PPR) including face shields, gloves, and face masks for the crew.
Masks will be required when direct contact with people is planned. For example during transfers on/off vessels. As such guests are requested to bring masks to last the duration of your adventure experience. A limited supply will also be available onboard if you forget.
Detailed crew response plan in the event of any suspected outbreaks.
Electrostatic sprayers for added sanitization.
No circulated air between cabins.
Q. Where can I find more information and testing options?
We've provided links to testing options below for reference. Prior to arrival, guests are encouraged to minimize contact and must complete a COVID-19 test that meets the entry requirements for UnCruise and the arrival state. We suggest guests test in accordance with the timeline required by the local destination. Upon arrival, passengers may be retested at the airport. Testing is required for all guests for our itineraries.
Recent Onboard Testing Results
On August 4, 2020, a guest aboard the Wilderness Adventurer received a positive COVID-19 test result from the State of Alaska. This was the guest's second test following a negative test result provided upon boarding. A retest a couple of days later showed a negative result for the same guest. The Wilderness Adventurer returned to Juneau early and all guests were quarantined. At no time did guests or crew show any outward symptoms of any kind. All guests and crew were retested, at which time negative tests were returned and guests were greenlit by the State of Alaska to return home. You can see the full details and timeline in our recent press release. With months of preparation, we were still able to pivot quickly in response to this event.
The Outcome
Zero hospitalization.
Zero illness on board amongst guests and crew.
Zero spread of Covid-19.  
Canceled 10 weeks in Alaska and the Pacific Northwest.  
Guests and crew had an outrageously fun time in the wilderness. Guests viewed this trip as a success, even in quarantine.  
All of our COVID-19 mitigation planning paid off and worked.
We wish to emphasize that UnCruise Adventures sees providing a safe and responsive environment for all travelers as imperative. All precautions were taken, as supported by public health authorities and interim guidelines. Subsequently, we have opted to cancel all future 2020 Alaska and Pacific Northwest departures.
If you are a member of the press or an inquiring journalist, we are happy to hear from you. Please contact pr@uncruise.com.
What We Did That Worked
Guests were strongly encouraged to do 1-week isolation prior to departing to Alaska.
Crew testing before boarding vessel with 2-week isolation prior to boarding guests.
Provided 4 touchpoints, directly with guests, one month prior to the cruise. These touchpoints reinforced policy aboard and the need for the guest to be part of this success by isolating and traveling safe prior to boarding in Juneau.
Guests pre-arrival testing under 3 or 5-day Alaska criteria. Guests on a 5-day program retested in upon arrival in Juneau.
Encouraged guests to arrive on the day of boarding to minimize local contact upon arrival in Juneau.
Provided a private meeting area in Juneau as a "group bubble" while guests waited to board our adventure cruise.
No pre-boarding meetings. This helped reduce group activity.
Boarding by small groups of 1-6 people. This helped reduce group contact and provide better service.
Guests self-select dining partners for the week and created their own microbubble for the meals they would have aboard the ship.
Cut capacity from 60 to 36 (40% reduction). This made social distancing at meals and meetings very easy to maintain.  
All normal COVID polices on masks, sanitation stations, physical distancing, 6/15 rule, no buffets, atomizing devices for cleaning, etc.  
Pre-boarding and daily temperature measurements were taken. Health questionnaire for all guests and crew.
Added Expedition staff in order to provide additional activities with small groups of 6-11 people. Expanded off vessel activities starting early and ending late in the day. These are small group outdoor events in open air. Often these adventures would span meal periods, so meals were packed with hiking, kayaking, and small boat adventures leaving fewer people on the boat.
No port calls of any kind or any outside touch points with other humans once aboard the boat.
Moved most crew out of crew quarters and into guest cabins that were not utilized. This reduced exposure of crew by having individual or double person rooms.
Set aside isolation rooms onboard the vessel.
Kept passageway doors to the exterior open to allow airflow. Also instructed guests on the value of opening cabin windows and spending leisure time on deck.
Kept cabin doors open after twice-daily cleaning. Sanitation rounds every 4 hours onboard.
Sneeze Guards installed at bar/lounge area.
Assigned life jackets and other adventure equipment to guests for the duration of the cruise.  
dded portable fans to the dining room, lounge, and passageways to move air.
Unique Alaska signage throughout vessel concerning the value of masks and social distancing.
Use of hot tub by family groups only.
Pre-arranged hotel rooms for guests in case we needed to isolate ashore. This allowed us to quickly move guests off the boat and away from the crew, reducing the opportunity for transmission.
Provided logo masks for interior use and buffs for use during activities off the boat.
Carried 100 COVID -19 testing kits aboard the vessel.
Created COVID-19 policy that included contingency planning, phone trees, and drills. The phone tree focused on regulatory, crew family, guest agents, and family, etc.
No crew rotations during the Alaska season. This helps reduce exposure.
All guests' cabins with exterior windows or doors or both. No interior or below deck cabins used.
Contact tracing was implemented immediately upon notification of positive test by Alaska official's land side.
---