2021 Alaska Book Now Earn Now Live Webinar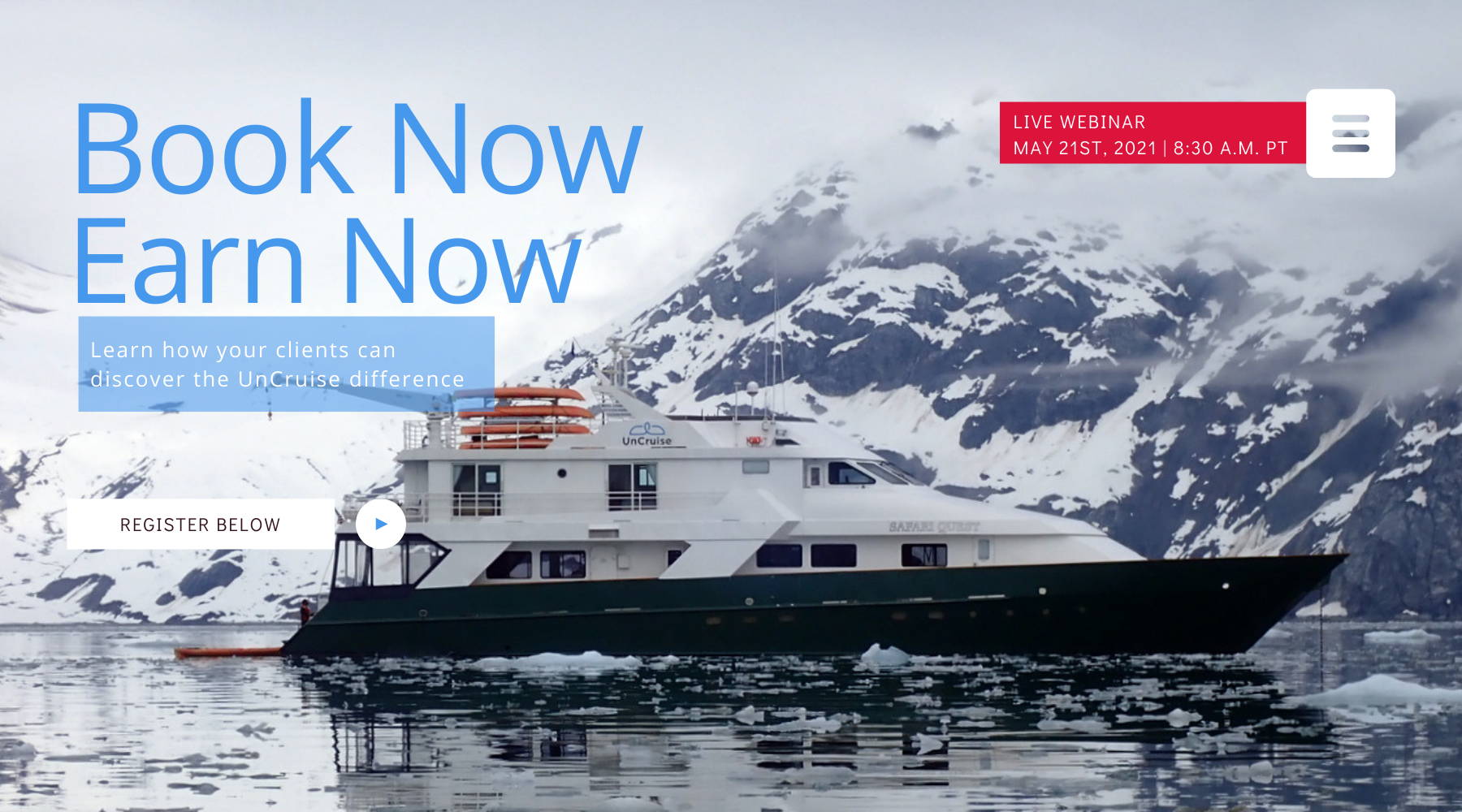 Thank you for your interest in our webinars and online learning! During the upcoming months, we will be adding more tools for you to learn and share about small boat adventures. In the meantime, we are building a new platform that we think you'll love and are focusing on how we can work with you and your team. If you have a specific question please reach out to sales@uncruise.com or julieq@uncruise.com
Join our Director of Strategic Partnerships, Julie Quarry to find out more about what we have in store for you this year. Alaska 2021 is a unique opportunity for travel advisors and guests alike, and as we continue into the summer we still believe is a safe and viable option for adventure travelers. Do your clients want to feel like they're wanderlust is too much? Are they ready for safe travel options in small settings? Learn how the UnCruise Adventures Small Boat Collection can provide unforgettable domestic, close-to-home summer travel, right now! These are commissionable and full of adventure for almost any age. Discover how they can experience the UnCruise difference. Julie shares our latest updates in a live training;
2021 Alaska - Book Now, Earn Now
RSVP TODAY
Friday, May 21st, 8:30 a.m. PT
Join Zoom Meeting
https://us02web.zoom.us/j/82242156740
Meeting ID: 822 4215 6740
With over 20 years in the small-ship industry, Julie is proud to work with all travel agents and showcase how to sell small boat adventures and what is unique about small boat cruising. She's also been lucky to bridge her two loves, travel and photography. Julie's photography has been featured in major magazines including Alaska Airlines, Horizon Airlines, Travel Agents, Condé Nast Traveler, National Geographic, Pentax K200D, VIA Magazine, and the Traveler. 
What's New For Travel Partners?
We're a fun bunch—and we want you to have as much fun selling our adventures as we do. We look forward to our partnership and working together and are creating a new partner toolkit just for you!
Is there something you'd like to see represented here that would help you sell? By all means—let us know. We appreciate the feedback. Contact us at marketing@uncruise.com.
We have embraced small boat, small group, small footprint leadership since
starting in 1996. This year we celebrate our 25th anniversary bringing us into a new era.
We will stay committed to our message our core values and
our company culture that makes us who we are, supporting our communities,
our planet and each other. Our focus on UnTourism and remote
adventures leads the way.
We've been voted World's Best by Travel & Leisure three years in a row, won top adventure cruise by Cruise Critic and made it to the Conde Nast Gold List for 2021.
Life on board is an adventures! Our guests quickly find commonalities with one another—shared hobbies and interests, travel experience, career paths, sometimes even hometowns.
Past Webinars & Trainings
Get Certified As An Adventurist
New to UnCruise Adventures? You're invited to become an "Adventurist"—a certified cruise specialist. Among the many benefits, Adventurists are featured on our website and find and agent page used by future guests seeking a travel professional in their area. Take the exam now.